It can be emotionally heartbreaking to have a parent (or any loved one) in a nursing home. Even though you know that they need the type of care that is only available in a long-term care facility, you worry about the care they are receiving at the nursing home. If that worry turns into full-fledged suspicions of abuse or neglect, what can you do? A Murfreesboro elder law attorney at Bennett | Michael | Hornsby explains what you can do if you suspect nursing home abuse in Tennessee.
How Common Is Nursing Home Abuse and Neglect?
Over the past few decades, the population of older Americans has increased dramatically. In fact, experts predict that older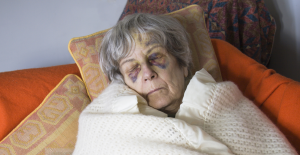 Americans (65 and older) will outnumber younger Americans (21 and under) by the year 2050. The sheer number of older Americans means that more people need nursing home care. Sadly, staff shortages, lack of proper training, and indifferent administrators can all lead to nursing home abuse and neglect. The National Council on Aging (NCOA) estimates that up to five million older Americans are abused every year and that seniors lose over $35 billion because of elder financial exploitation each year. Moreover, the U.S. Department of Justice (DOJ) tells us that one in 10 older Americans experiences some type of elder abuse or neglect each year and that fewer than one in 24 instances of elder abuse are reported. 
Nursing Home Residents Have Rights
A resident does not leave their rights at the door when they enter a nursing home. On the contrary, there are several federal and state laws that specifically outline the rights of a nursing home resident. Tennessee law, for example, makes it clear that the resident of a nursing home has numerous rights, including the right:
To privacy in treatment and personal care.
To be free from mental and physical abuse. 
To refuse treatment. 
To have his or her file kept confidential and private. 
To be given thirty (30) days written notice prior to transfer or discharge, except when ordered by any physician because a higher level of care is required.
To voice grievances and recommend changes in policies and services of the home with freedom from restraint, interference, coercion, discrimination, or reprisal. 
To manage his or her personal financial affairs, including the right to keep and spend his or her own money.
Steps to Take If You Suspect Nursing Home Abuse
If you are concerned that someone you care about is being abused or neglected at a nursing home in Tennessee, there are several steps you can take to address your suspicions, such as:
Confirm your suspicions if possible. Victims of elder abuse are often unwilling or unable to discuss the abuse; however, if possible, talk to your loved one about your suspicions and confirm them.
Meet with administrators. Schedule a meeting with the facility administrators. Sometimes this helps while other times the administration closes rank and worries more about being exposed than about stopping the abuse.
File a complaint. You can file an official complaint with the Tennessee Department of Health. The complaint will be assigned a priority code and will be investigated. If abuse is confirmed, appropriate action will be taken by the Department.
Consult with an elder law attorney. While you should file an official complaint, that process can be long and often results in nothing more than a fine for code violations. Elder abuse can also serve as the basis for a civil lawsuit against the nursing home. Talk to an elder law attorney about your legal options and about petitioning for guardianship over your loved one if necessary to ensure that you have the legal authority to remove them from the nursing home.
Contact a Murfreesboro Elder Law Attorney
If you have additional questions or concerns about what to do if you suspect nursing home abuse or neglect, consult with an experienced Murfreesboro elder law attorney at Bennett | Michael | Hornsby as soon as possible. Contact the team today by calling 615-898-1560 to schedule your free appointment.

Latest posts by Dinah Michael
(see all)