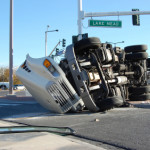 Although we have seen amazing advances in medicine, technology, and science over past century we have yet to find a better way to move things from point A to point B than by using tractor-trailers. These behemoths of the roadways continue to truck along bringing us everything from food to cars to entire houses! While we remain dependent on large trucks in the United States we are also wary of them because of the risks they present to everyone else on the roadways. Unfortunately, trucking accidents are a common occurrence, often with deadly consequences.
Accident statistics consistently tell us that semi-trucks are disproportionately represented in motor vehicle accidents throughout the United States each year. While large trucks account for about four percent of all vehicles registered in the U.S. each year they are involved in approximately ten percent of all accidents. Most truck drivers are conscientious, law abiding, and courteous drivers; however, it only takes a brief moment of negligent behavior to cause a catastrophic collision.
Common Causes of Trucking Accidents in Murfreesboro
Some of the more common causes of trucking accidents in Murfreesboro include:
Drowsy driving –truck drivers typically drive long hours in an attempt to meet all but impossible delivery schedules. Although federal laws limit the amount of time a truck driver is allowed to be behind the wheel between rest periods some drivers ignore the laws. A fatigued truck driver who nods off while driving can cause a devastating accident.
Impaired driving – federal laws also require truckers to submit to drug tests when asked to do so; however, some truck drivers continue to find ways to use substances that can impair their ability to safely operate the vehicle. Even over the counter medications can cause a driver to become sleepy or disoriented, causing an accident.
Distracted driving – truck drivers are prohibited by law from texting while driving – the number one cause of driver distraction. All it takes is one driver violating that law or being distracted by something else in the vehicle to cause immeasurable damage.
Speed – speed is a factor in one out of every three motor vehicle collisions in the United States each year. A speeding 18 wheeler can clearly do more damage than a speeding passenger vehicle.
Aggressive driving – some truck drivers operate their vehicle like they are the only vehicle on the roadway, making rapid lane changes or tailgating other vehicles. This type of aggressive driving behaviors can be deadly if the driver loses control of the vehicle.
Vehicle/equipment failure –tractor-trailers spend thousands of hours on the roadway each year. Vehicle and equipment failures are common and can be the cause of an accident.
If you have been injured in a Murfreesboro trucking accident it is imperative that you consult with an experienced Murfreesboro trucking accident attorney as soon as possible to ensure that your rights are protected.

Latest posts by Stan Bennett
(see all)