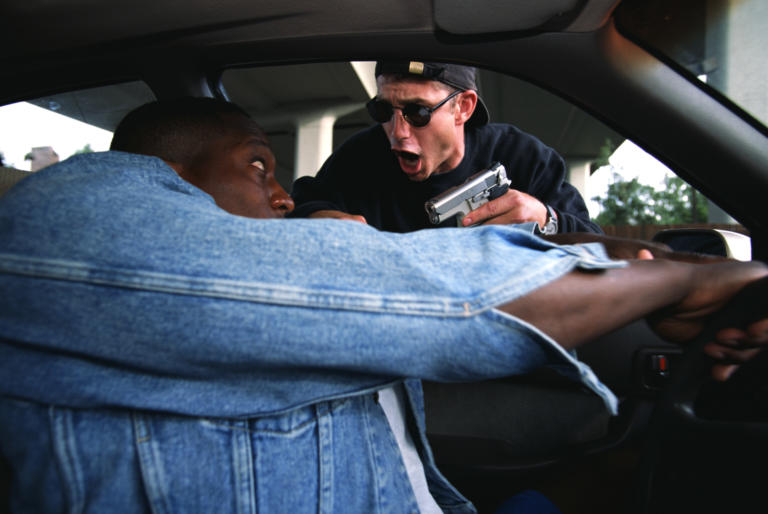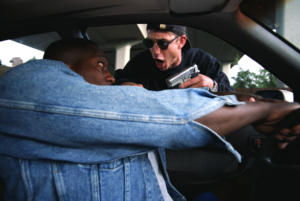 Police arrested a 35 year old man recently in Nashville after a chase that involved two carjackings and shots fired at a police officer. Although the charges against him have yet to be determined, it is likely he will face decades in prison if convicted. Making matters worse is the fact that the suspect was just convicted of burglary and auto theft in July of 2016 at which time he received a six-year sentence.
Carjackings, Burglaries, and Chases
According to news reports, Metro Police officers in Midtown Hills arrested Dustin Stanton, 35,  who they say went on a one-man crime spree involving two carjackings, three burglaries, and the ramming of a police car over the course of a few days. The suspect also allegedly fired multiple shots during one of his crimes and tossed a gun as he tried to run from officers on High Street.
According to investigators, the owner of a Nolensville Pike muffler shop arrived at work on Saturday morning (Nov. 10) to find his business had been burglarized. He recognized Stanton from surveillance footage as an acquaintance of a former employee, and knew he frequented the area of Antioch Pike and Haywood Lane and set out to find him. The shop owner apparently found Stanton at a carwash on Antioch Pike and attempted to block him in while he called the police. Stanton attempted to flee in the stolen Acura MDX he was driving but got stuck on a concrete barrier at which time he reportedly fled the vehicle and ran to a man who was drying off his Ford Focus, held the man at gunpoint and demanded that he drive him away. When the man refused, Stanton reportedly fired a shot, got in the Ford Focus, and fled the scene while attempting to fire additional shots.
Stanton then crashed the Ford Focus on Bell Road at Percy Priest Dam and carjacked another vehicle, this time a Honda Accord.  When officers attempted to find Stanton, they found him outside a home on the 4900 block of Shasta Drive talking to people inside yet another vehicle. When police approached, investigators said Stanton got into the back seat of the Nissan Juke and pulled a gun on the people in the car. They jumped out of the car, which prompted Stanton to get into the driver's seat and attempt to flee. In the process of fleeing, Stanton rammed a police car.
A short time later, investigators found the wrecked Juke in the woods at Paragon Mills Park. Stanton proceeded to flee through the woods and approached a homeowner on Cathy Jo Circle. Stanton reportedly pulled a gun and forced the homeowner into the house at which point he stole a change of clothes and key's to their Nissan Frontier.
Undercover detectives who knew Stanton frequented High Street set up surveillance and spotted him heading to one of two vehicles nearby. When detectives moved in, Stanton ran. While running from the police, Stanton tossed a pistol into the grass. Fortunately, detectives were soon able to apprehend Stanton and take him into custody.
What Charges and Penalties Might the Suspect Face?
Although news reports indicated that official charges had yet to be filed, it is fairly clear that Stanton could face more than one count of carjacking and burglary. In the State of Tennessee, carjacking is governed by Tennessee Code Annotated §39-13-404 which reads as follows:
Carjacking is the intentional or knowing taking of a motor vehicle from the possession of another by use of:

A deadly weapon; or
Force or intimidation.
Burglary is governed by Tennessee Code §39-14-402 which reads, in pertinent part, as follows:
A person commits burglary who, without the effective consent of the property owner:
Enters a building other than a habitation (or any portion thereof) not open to the public, with intent to commit a felony, theft or assault;
Remains concealed, with the intent to commit a felony, theft or assault, in a building;
Enters a building and commits or attempts to commit a felony, theft or assault; or
Enters any freight or passenger car, automobile, truck, trailer, boat, airplane or other motor vehicle with intent to commit a felony, theft or assault or commits or attempts to commit a felony, theft or assault.
Carjacking is a Class B felony, punishable by eight to 30 years in prison and/or a fine of up to $25,000. Burglary can be a Class D or E Felony in Tennessee.  A class D felony is punishable by two to 12 years imprisonment and a fine of up to $5,000.  Class E felonies, the least serious felonies in Tennessee, are punishable by one to six years in prison, as well as a fine of up to $3,000.
Contact a Tennessee Criminal Law Attorney
If you have questions or concerns about criminal law in the State of Tennessee, it is in your best interest to consult with an experienced Tennessee criminal law attorney immediately. Contact the team at Bennett, Michael & Hornsby today by calling 615-898-1560 to schedule your appointment.

Latest posts by Stan Bennett
(see all)