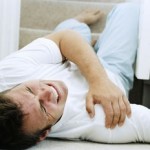 People are injured every day in what are commonly referred to as "slip and fall" accidents. Although we referred to these as accidents the truth is that many of them are actually caused by someone's negligence. When negligence is the cause of a slip and fall injury the victim may be entitled to compensation for the injuries caused by the "accident". Slip and fall accidents are a type of personal injury and are handled in much the same way as a car accident lawsuit. While a slip and fall accident can occur anywhere, some of the more common places where slip and fall accidents in Smyrna happen include:
Grocery store/mega-stores –boxes are frequently left in the aisles or piled high on shelves where they can fall causing a customer to trip and fall.
Restaurants – liquids are frequently spilled by waiters or busboys in a restaurant. If it is not cleaned up immediately someone can slip and fall.
Hotels – hotels may have poor lighting in the hallways or stairwells causing a guest to trip and fall.
Stairways – loose handrails are a significant cause of slip and fall accidents on stairs.
Parking lots – any manner of debris could be a tripping hazard in a parking lot. In addition, if the parking lot is not properly cleared of ice and snow in the winter it can present a serious risk of slipping.
Escalators/elevators –a surprising number of elevator/escalator injuries occur each year throughout the country. Older adults are particularly susceptible to slipping and falling on an escalator.
Nursing homes –older adults living in nursing homes suffer far too many slip and fall accidents, many of which could have been prevented with better supervision and maintenance of the facility.
Private homes –private homes are often virtual minefields when it comes to slipping and tripping hazards.
Work –falls are consistently the number one cause of workplace injuries. Many of these injuries could have been prevented had the worksite been maintained better.
Legal Advice for Slip and Fall Accidents in Smyrna
Victims of a slip and fall accidents in Smyrna are often unaware that they could be entitled to compensation for things such as medical bills, lost wages, and even pain and suffering. If you believe that you have suffered a slip and fall injury in Smyrna, Tennessee and that someone's negligence caused, or contributed to the "accident" that caused your injuries, contact an experienced Smyrna slip and fall attorney as soon as possible to discuss your legal options.
To learn more, please download our free Compensation in a Tennessee Personal Injury Lawsuit report here.

Latest posts by Stan Bennett
(see all)