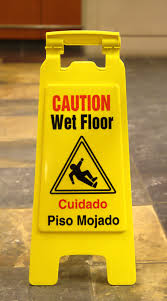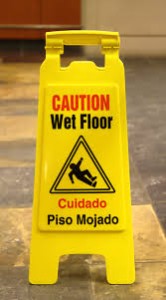 A slip and fall accident can result in serious, even life-threatening injuries to the victim. All too often, the victim of a slip and fall accident does not realize the extent of the injuries suffered until sometime after the accident occurs, making it more difficult to document the injury for purposes of pursuing compensation from the at-fault party. Just as no one plans on getting into a car accident, nobody plans to be injured in a slip and fall accident. Knowing what steps to take in a Tennessee slip and fall accident, however, will help you preserve your right to compensation should you ever find yourself a victim.
Slip and fall accidents commonly occur in a public setting such as a grocery store, restaurant, or shopping mall. Liquid spilled on a floor, merchandise left in an aisle, or a loose handrail are all common causes of a slip and fall accident. Should you find yourself the victim in one of these accidents, the following steps will help preserve your rights and get you started in the healing process:
Call the police. This may seem unnecessary to you; however, contacting the police will ensure that you receive the medical attention you need and will serve to officially document the accident.
Contact a supervisor. If the accident occurred at a business, or other public venue, ask to speak to a manager or supervisor.
Obtain contact information. If you are able, write down the name of the business, address and telephone number as well as the name and contact information for the supervisor.
Check for witnesses. Again, if you are able, look around for any witnesses who may have observed the accident. Ask for their names and contact information.
Document the scene. Also if you are able and have a cell phone with you, snap a few photos of the scene just as it is at the time of the accident.
Submit to a medical examination. Always have a thorough medical examination done right after the accident. Many injuries don't show obvious signs of the injury, yet can be life-threatening. Head injuries, which are common slip and fall injuries, may show no outward signs of the injury but can be life-threatening if not treated immediately. Having an examination done also serves to connect any injuries with the accident for legal purposes.
Do not talk to anyone representing the at-fault party. Expect a telephone call shortly after the accident from the business's liability insurance carrier. The adjuster will want to ask you some "simple" questions about what happened. Do not talk to them. The odds are very good that something you say will be taken out of context or misinterpreted and used to avoid responsibility for your injuries on the part of the business.
Contact an attorney. Do contact an experienced Tennessee slip and fall attorney as soon as possible.
A slip and fall accident can be serious, causing you to suffer physical pain and emotional trauma, not to mention the financial hardship that may follow if you miss work as a result of your injuries. If you are the victim of a Tennessee slip and fall accident, contact an experienced Tennessee slip and fall accident attorney right away to ensure that your rights are protected.

Latest posts by Stan Bennett
(see all)