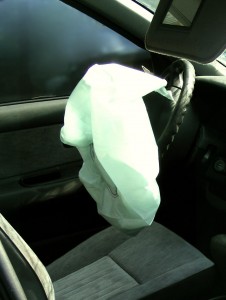 No one leaves home in the morning expecting to be involved in a motor vehicle accident. Unfortunately, however, they do happen. If you find yourself involved in a collision you will likely experience a range of emotions following the crash, including fear, anger, and confusion. Unless you have been in a motor vehicle accident before though, the primary thought on your mind likely to be "What do I do now?" If the collision was caused, in whole or in part, by another party, the answer to that question is extremely important because you may be entitled to compensation for the injuries you suffered in the accident. To ensure that your rights are protected, and that you eventually receive that compensation, you need to know the five most important steps to take after a Tennessee car accident.
1. Seek medical attention.
People frequently make the mistake of refusing transport to a hospital after being involved in a motor vehicle accident. They do this for many reasons. Sometimes a victim refuses to go to the hospital because they don't have insurance to cover the cost. Other times it is because they fear losing time from work or simply because they think they are not seriously injured.
Always have a thorough medical examination done following a car accident
. There are two reasons why this is crucial. First, many serious, even life threatening, injuries do not show obvious signs until hours, even days, after the injury occurs. Head injuries, for example, can cause fatal swelling of the brain without any outward signs. Second, by seeking immediate treatment you provide a clear nexus between any injuries you suffer and the accident which will help your attorney prove damages when the time comes to settle your case.
2. Document the accident.
When you are able, get a copy of the police report that was filed with the responding law enforcement agency. Also, if you are able to do so before you leave the scene of the accident, take pictures of your vehicle and other involved vehicles as well as of the surrounding scene of the accident. Also get names and contact information for anyone involved in the collision and/or witnesses.
3. Consult a Tennessee car accident attorney.
Another mistake victims often make is failing to consult an attorney early on after being involved in an accident. Even worse, they often talk to the insurance adjuster for the at-fault party before consulting an attorney. Always talk to an experienced Tennessee car accident attorney before talking to anyone else about the accident. Calls from insurance adjusters are always recorded and you could inadvertently say something that could hurt your chance of receiving compensation for your injuries.
4. Follow through with medical treatment.
After your initial medical examination, be sure to follow through with any recommended treatment or further testing. People often think they are not seriously injured if they did not suffer a catastrophic injury; however, injuries from car accidents can often worsen over time without proper initial treatment. In addition, the value of your case will depend, to a great degree, on the extent of your injuries. If you fail to follow up with treatment for your injuries there will be no documentation that you were even injured and, therefore, no way to prove the value of your case.
5. Document your pain.
The victim of a personal injury accident in Tennessee may be entitled to both economic and non-economic damages. Non-economic damages are what people commonly refer to as "pain and suffering." Pain and suffering damages are subjective in nature and, therefore, more difficult to value. Keeping a "pain journal" that records how the pain you suffered impacted your day to day life after the accident can go a long way toward proving the value of your non-economic damages if the need arises.
By following these five steps you will ensure that your right to compensation for your injuries is protected.
If you have been injured in a Tennessee car accident, it is in your best interest to consult with the experienced Tennessee personal injury accident attorneys at Bennett, Michael & Hornsby. Contact the team today by calling 615-898-1560 to schedule your appointment.

Latest posts by Dinah Michael
(see all)